Disappointing sales numbers… how do you tackle them?

Disappointing sales numbers… how do you tackle them?
Do you manage a fantastic shop that just doesn't make enough sales? Or a sales point from your franchise that stays well below target numbers? Or do you have a shop that still doesn't generate the expected turnover several years in a row? In short, dark clouds are gathering above your shop and you need to change course, now!
Turning the tide is possible! Our geomarketing experts will analyse precisely where the problem lies, so that you can focus on making specific improvements. Including many new insights about location, mobility, market- and turnover potential and the consumption behaviour of your target group.
In other words, all the necessary tools to benchmark your shops in a specific way and to get the maximum return from your retail network.
First the cause
The first hurdle is figuring out the cause of the low performance. Is it the environment? For example, due to a bad choice of location or total lack of visibility, both offline and online. Or is it the way the shop is managed? Sticking with outdated marketing- and sales techniques for too long. Or are you not taking the increasing competition and market changes into account? Or is there just no possibility for improvement? All crucial questions for every omnichannel retailer.
Questions that also make clear that a data-driven approach is more important than ever. This allows you to find out how much turnover a specific sales point can achieve through the use of smart geomarketing algorithms. Very handy to find out if the full potential is being utilised.
Who do you want to reach and what do you want to accomplish with your shop?
Now more than ever it's important to give your shops an identity and to distinguish yourself from your competitors. And, just as important, as a retailer you have to continually innovate and challenge in order to stay attractive to the consumer. Therefore, it's important to start from a clear vision: what do I want to achieve with my shop, what price- and service levels do I offer, what range do I use to reach which customer and how much pressure is there from the competition?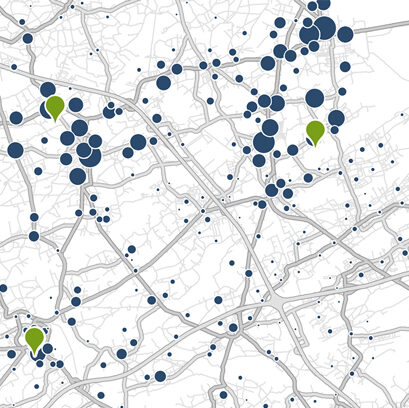 Is there sufficient potential?
If you select the right market for what you have to offer – a market with lots of potential customers who need your products – you've already got a head start. You start by mapping out the market potential, which is a rough estimate of the number of customers that could potentially buy your products, as accurately as possible. When doing this, also take into account the sociodemographic profile of your customers and the local population as well as the perfect neighbours because they are strong traffic builders.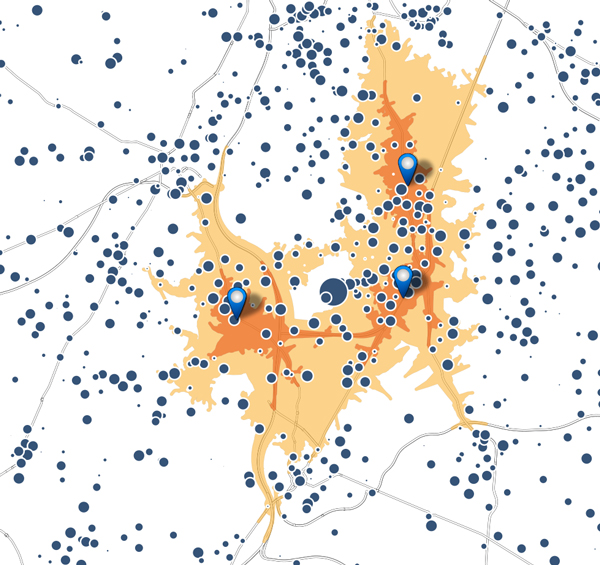 How to manage pressure from the competition?
The million dollar question: who is your competition and do they actually have the same target group? The answers to these questions will help you choose the best strategy for dealing with your competitors. Don't forget your internal competition, or in other words: to what degree does a certain shop cannibalise on nearby shops from the retail network? And not to forget the impact of your own webshop, which in these pandemic times can also contribute significantly to your total revenue.
What kind of turnover can you expect?
How much turnover can I generate in that location? Don't estimate this based on guesswork; make calculations for your potential market based on accurate information and study the various factors: target group, demographic data, shopping patterns, spending on consumption, competitors and things like passers-by. Based on this, you can calculate your first turnover prognosis. SIRIUS Insight's expertise will of course help you reach an even more reliable turnover estimate.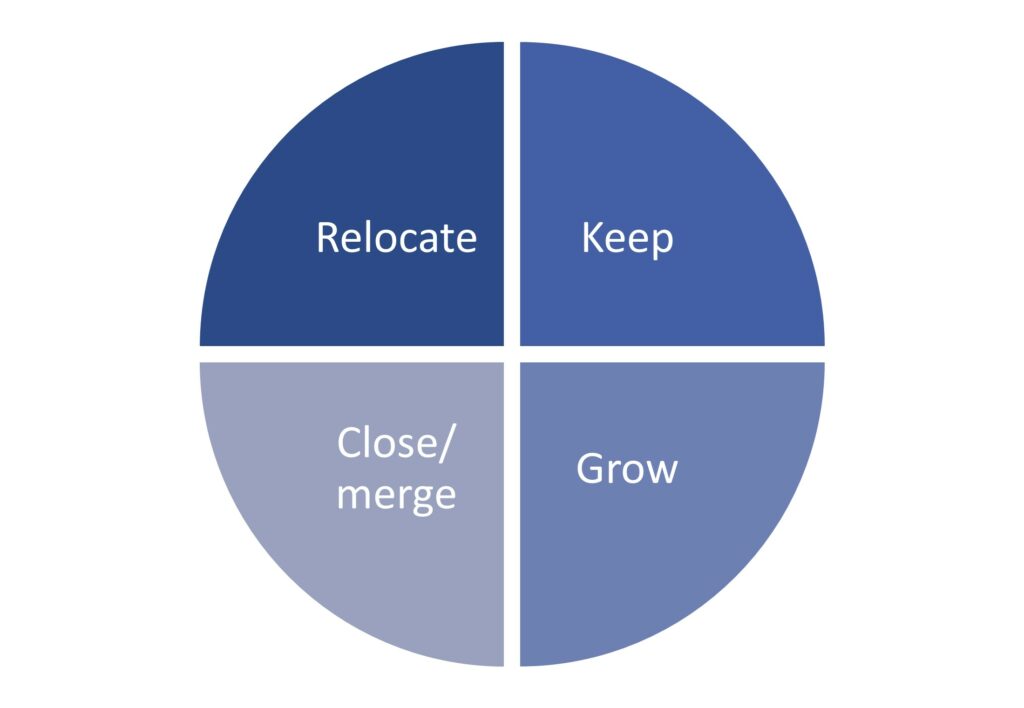 Measuring is knowing
You can assess shop performance based on the shop KPIs, and by clustering similar shops from your network you can compare which shops perform well or not, taking into account the surroundings and possible sector-specific predictions: is the market still growing or is it shrinking?
Know your turnover target
That's why it's so important to draw up a well-thought-out plan, to set a turnover goal and to determine the correct location with sufficient customer potential. Those who are fast to react can also develop suitable plans of action to improve an insufficient penetration rate or visit frequency. Or, as a worst case scenario: which underperforming shops should you move or eliminate, and which ones can still be salvaged?
Understanding the customer
It's important to check which types of customers you're attracting. How many people and families of this type live in my region? How much do these people spend annually? How much revenue is generated by customers who live nearby and how much by customers who live farther away? To define and localise your target group, SIRIUS Insight uses the Mosaic Belgium consumer segmentation. Defining and localising your target group makes it possible for you to develop the right range for those consumers who are most interested in your products. The end result is that you will recognise relevant patterns, connections and trends that allow the marketing- and sales teams to fully understand the customers.

Right target group, right content
The question is not whether you have to focus your marketing more on your region but whether your marketing efforts are reaching the right target group with the right content. Determine in which zones it's better to organise flyer handouts and for which customers direct mailing campaigns work best. By better understanding your target group, you will be able to determine which arguments have the most impact.
Bottom line
In the case of disappointing shop turnover, you must first determine how well the shop should perform and how the local synergy works to your disadvantage. Make sure to get to know your ideal customer well, including their specific demographic traits, critically assess the market size for your products, analyse where your shop is situated within that market and map out the competition.
Then use the data you've acquired to your advantage, support your conclusions with solid research and be aware that as a retailer you must dare to re-evaluate your strategy if things are stagnating. Anyone who is working in the wrong market, or in the right market but at the wrong time, will have to go full steam ahead to keep their head above water.
One thing is certain: as a retailer you must be able to react quickly to changing environmental factors and a changing market. Are some regions underperforming? Do we have to increase our marketing efforts there? Has the competition increased or the potential decreased? Or is it better to move or even close the shop? One word of advice: reduce the risk of wrong choices to the absolute minimum with the expertise from SIRIUS Insight.
What SIRIUS Insight can do for you
SIRIUS Insight supports retail managers in the most efficient way when making strategic geomarketing decisions. We offer reliable answers to strategic questions about your retail network, the location of sales points and the consumption habits of your customers. You can count on our support for:
Turnover prognosis of a new sales point
Performance of the current retail- and omnichannel network
Impact of competitors on the sales points
Identification of hotspots and their sales numbers
Effect of a webshop on the retail network
Number of customers recuperated after closing one of the sales points
Cannibalisation level of a new sales point in the network
Segmenting and enriching the customer base for marketing purposes